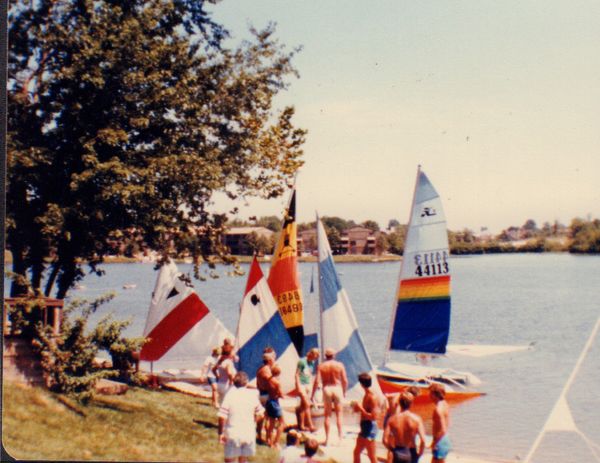 LSV in the 80s - Images by Jean Welch, scanned by Mark Arnold
History of the Reservoirs
Our wonderful lakes were built in the late 1800s and early 1900s in order to provide water to the city of Lexington. No longer needed to support the city's water supply, the lakes were sold to private developers in 1964.
As each lake was dug, an earthen dam was created for it. The dam along Alumni Drive was reconstructed in 1978 when homes behind it were approved for construction. The present dam consists of a concrete weir and an adjacent earthen dam. Water flowing over the dam empties into the West Hickman Creek.
Click on the three booklets for a history of lake construction, provided courtesy of Kentucky-American Water Company:
 
Booklet One
Booklet Two
   Booklet Three
 
---
1974 Herald Leader Article
Go back in time to 1974 when Lakeshore Village was a hot item in the Home Fashion section of the Sunday Herald-Leader.
Click here!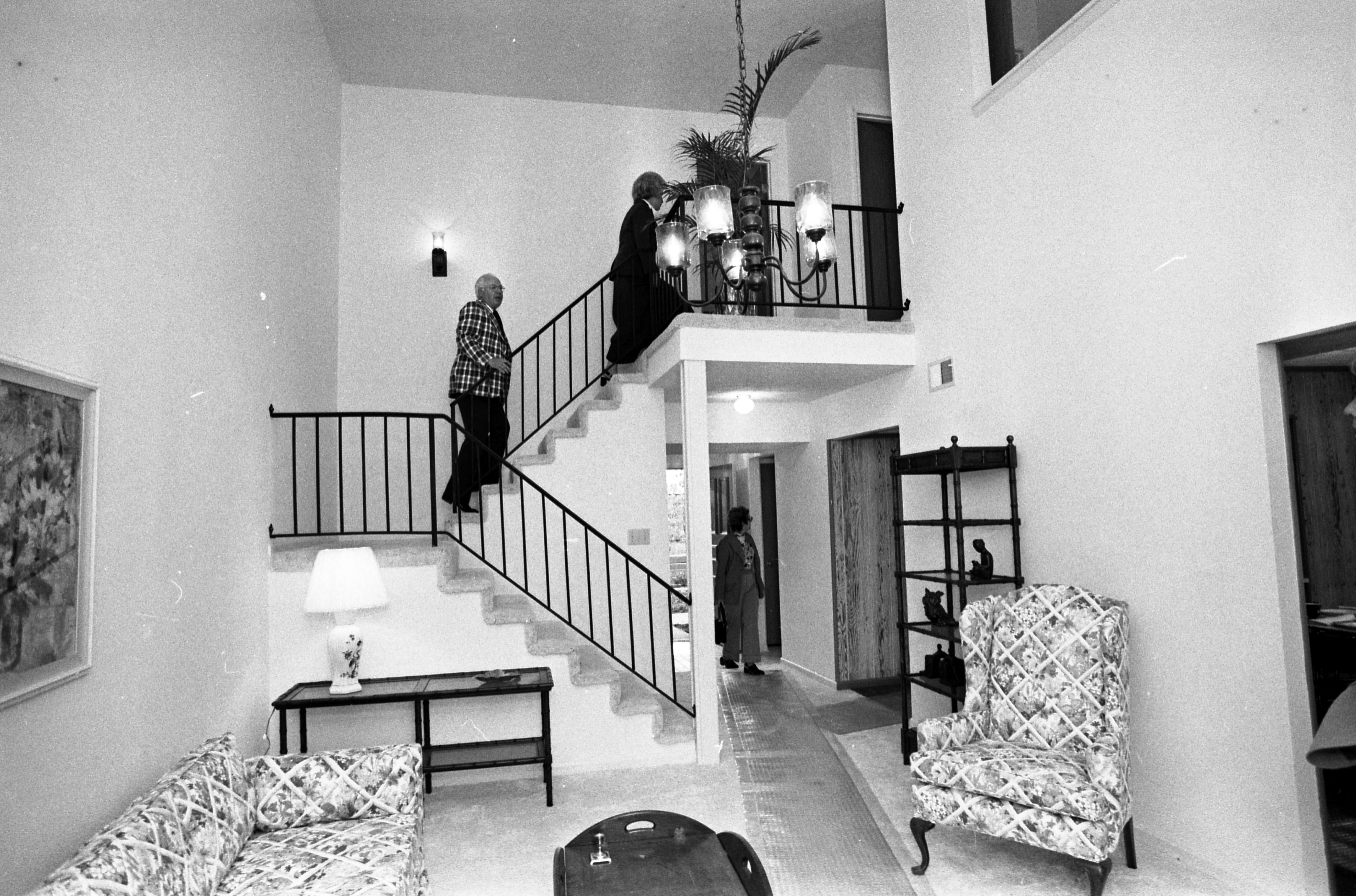 Tour of a brand new LSV condo
Timeline - Prepared by Jean Welch
This timeline is a work-in-progress. LSV residents present and former are invited to help fill in the blanks. Send information and/or images to Jean Welch (mamajean1@windstream.net) or Tom Martin (tmartin1949@gmail.com)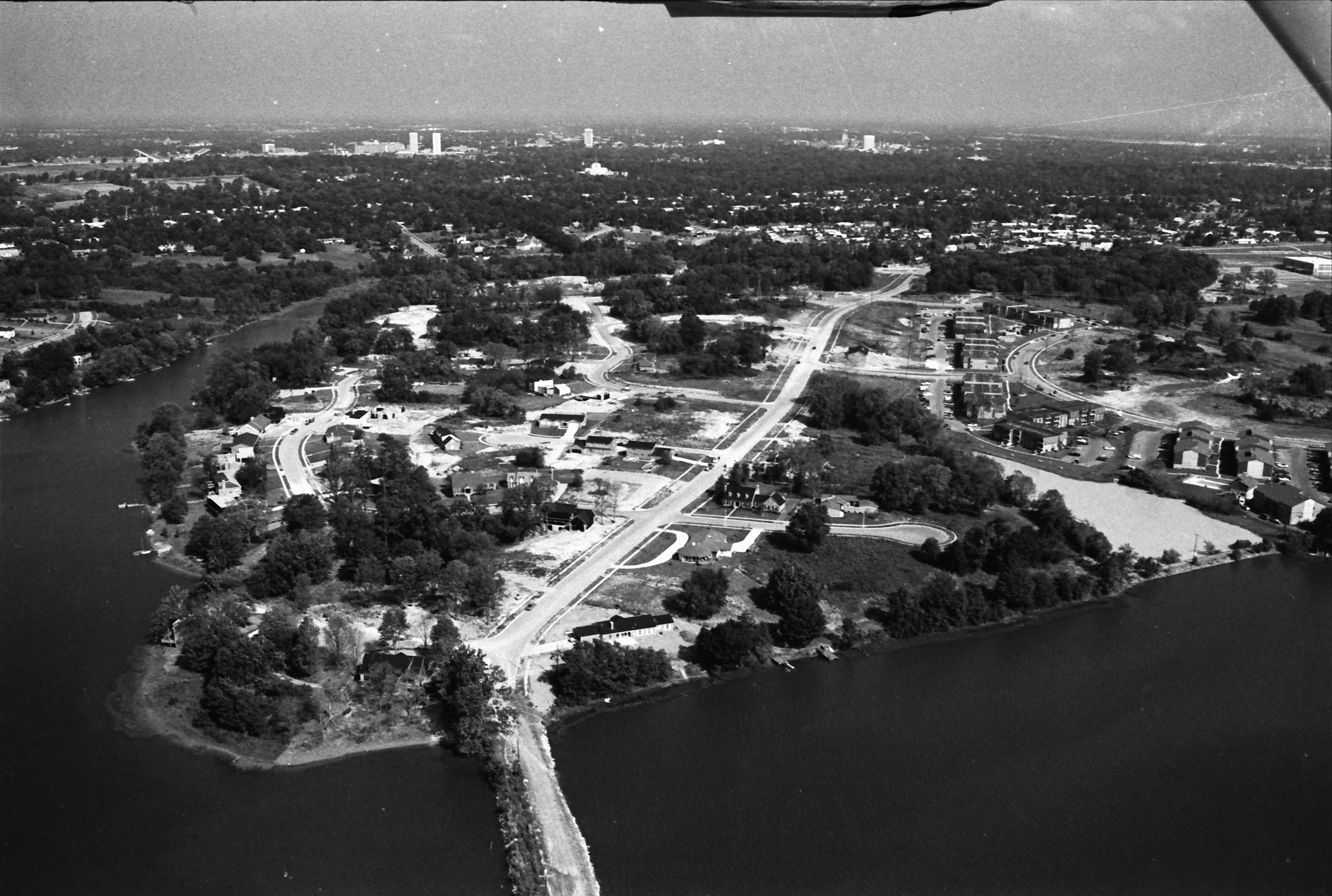 (Aerial view courtesy Lexington Herald-Leader: Lake Fontaine is to the right of causeway between lakes) 
  Early residents and year they arrived at LSV 
 Theresa Griffin Monahan: 1975
                        Teddy Day:  1977

                Lorna Bell Bundy:  1979
                  Ann O'Brien:  1980
                              Kim Risner:  1982
                          Jean Welch:  1982

                                Lynn Kearns:  1983

                          Tom Kearns:  1985

                 Sue Harn:  1985
                  Norma Allweiss:  1987
---
First managers 
The Troutmans lived in the unit now occupied by Kathy Pratt. Peg handled the office; Ed the grounds. After the Troutmans retired, the LSV Board decided to change the CCRs stating that management could no longer reside on the property. Rationale: It was too stressful for the managers, and could potentially create a conflict of interest.)
---
Amenities
The association maintained two tennis courts and a nearby gazebo, four canoes for use by homeowners, and volleyball posts, net and ball for use by residents in the warm weather.
---
Waterfront Director
LSV once employed a full time waterfront director each summer to maintain the pool, boathouse and canoes and organize games for children. Canoes (4) were stored under the clubhouse-which we referred to as  the boathouse, maintained by the waterfront director and available to residents on a check-out basis.
---
Regattas
Each summer, a Regatta was held with LELA and LSV. LELA provided food and beverages, while LSV provided the clubhouse and pool. There were sailboat and canoe races on the lake as well as watermelon races and other games in the pool for the kids.
---
The Lowdown
The Board approved a community newsletter, the Lakeshore Village Lowdown. Jean Welch served as editor and publisher (on a portable electric typewriter) for two years, 1985, l986.  It included sections such as: Meet Your Neighbors interviews, a bulletin board, a soapbox.  
---
A community-wide garage sale
Held at the Clubhouse. All items were donated by the homeowners. Proceeds funded a "dance" floor, the sliding glass door between clubhouse and restrooms, two tables and folding chairs, 2 picnic tables and two park benches at the waterfront in the grassy area.
---
The "New Look" Assessment of 1988  
Homeowners voted for first large assessment in the Village, The "New Look Assessment" of 1988. The first LSV assessment, $1200 per unit, was approved by a two-thirds majority of homeowners.
How was this accomplished?  
Board members met with homeowners, either individually or in small groups to explain the need for the assessment and to show how it would be allocated. After a summer of hard work by the board, the assessment passed by a majority vote.
How was assessment money spent?
Extensive landscaping throughout the village, replacement of all railroad ties, blacktop, pool enhancements, clubhouse improvements, sidewalk repair, resurfacing tennis courts.
---
Agreement between the HOA and the lakefront units 
In exchange for designating the green space between the back of these units and the lake- as private property rather than communal property- the eight owners would be responsible for maintenance and repair of the retaining wall directly behind their property. It was an amicable agreement, and considered to be a win/win for all.
---
Revised CCR's  
In 2000, the CCR's were re-written, and some major changes were made:
> Each unit's monthly painting fee would be determined by the exterior square footage of their unit, and a separate accounting on paper would be kept of the amount each homeowner had accumulated for the painting of their unit. 
> Each homeowner would be responsible for siding replacement or repair of his/her unit.  
> Units with contiguous roofs would pay into a roofing fund
> All units sold after 2001 must be owner-occupied. Exceptions could be made at the discretion of the Board for short term rentals of less than one year for purposes of sabbaticals, or long travel.  Such agreements must be made in writing and signed by the homeowner and a board member.
---
Large Assessment Approved 
After two failed attempts by the board to pass a large assessment,  homeowners voted in the Special Assessment and,in tandem, theTransition Plan of 2000 ( $1800 per unit.) 
   The Transition Plan
This plan ear-marked set amounts of the total assessment for each project, and a timeline for completion of each project. Monies designated for each project could not be used for any other purpose. (The succeeding board, however, failed to honor this commitment and used funds earmarked for the tennis courts courts for projects deemed to be of a "more urgent" nature.)
---
Changes at Two Lakes Apartments 
Our neighbors, the Two Lakes Apartments, became Sonnet Cove Apartments. A portion of the complex eventually were designated Section 8.  Property owners living in Canada failed to maintain the property.  There were many problems, some involving the police, that began to occur on a regular basis. 
In 2012 Jean Welch notified Urban County Council Member Cheryl Feigel that conditions at the complex were deplorable and needed to be addressed. Ms. Feigle responded immediately, held meetings with LSV residents, brought code enforcement on board, and wheels were set in motion to get the property condemned and placed on the market. 
Developer Alan Shubert bought and re-designed the former Sonnet Cove properties and built Lakewood Terrace.  This has been a dramatic improvement for the entire neighborhood.
The LSV Board of Directors voted not to enter into any legal or financial alliances with Mr. Schubert, and to maintain LSV properties and amenities solely for the use of LSV residents.
LSV HOA Board Chairs Past & Present
 PAST & PRESENT BOARD CHAIRPERSONS:
(Apologies for any oversights. Please send any additions to tmartin1949@gmail.com)
Tom Ryburn
Alan Bloomfield
Tom Bloemer
Charlie Brown
Ralph Scearce
Diane Skoll
Linda Gates
Reed Polk
Caroline Taylor

Lynne Fitzgerald

Laurel Sims
Jim Harn
Katie Muse
Charlotte Clark
Arnold Ludwig
Jim Norton
Jim Lambert
Pat Robinson
Wendy Becker
Gretchen Feld
Larry Snipes 
Rick Thompson (Current)