RECOMMENDED BY LSV RESIDENTS
Listed by service in alphabetical order - Click on "LINK" to access provider website
Antique service 
Mason Roberts 
859-381-1948 
Appliance Repair and Handy Man
Steven Butcher
859-509-4251 
Auto Detailing 
The Right Choice Mobile Auto Detailing 
 (859) 420-5461 
Carpet / flooring / tile  
Mathis Flooring – Vernon Mathis  
859- 254-8710 
___
McKenney Floor Covering 
859- 887-1012 
Carpet cleaning  
Prestige Carpet Cleaning 
859-489-0767 
Chimney 
Barnhill Chimney 
859-219-8736 
Clocks 
Corner Clocks 
859- 389-7370 
Drapery 
Dale & Jane Siewert  
859- 269-8444 
Dryer Duct Cleaning 
Brad & Chad Horn 
859-621-6191 
___
Mighty Ducts 
859-278-8829  
Electrician  
Tom Stinnett 
859-285-2500 
___
Elite Electric-Coleman Roach  
859-621-8555 
Firewood 
Allen Wethington 
606-706-0965 
___
Arlington Tree Service  
859-983-1787 
Flower Delivery  
Michler's Florist 
859-254-0383 
___
Ashland Florist  
859-233-4400 
___
Oram's Florist  
859-447-9052 
Furnace / Air Conditioning (HVAC) 
Greenbox Heating & Air   
859-536-4102 
___
Bryant Heating and Cooling  
859-317-6009 
___
Mac Lawson 
859-533-5847 
___
Monthie Mechanical 
 859-255-8081 
___
Service Express HVAC
859-225-3977
General Contractors 
Steve McCubbins - Exterior repairs, painting 
859-475-7180 
___
Mike Thomsbury - Painting and Repairs 
858-382-6415  
___
Rick Fields - construction, electrical, plumbing 
859-279-4867 
___
Clay Wingate 
859-608-9108 
___
David Clayborne 
859-270-3728 
___
Lee Adams  
859-327-0079 
___
Perry Geertz  
859-533-4038 
___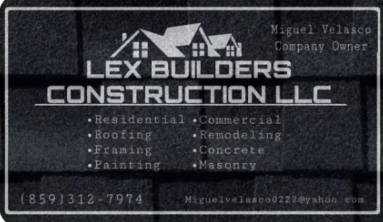 859-312-7974 ask for Miquel Velasco
___
Richard Gets  
859-361-6449  
Gutters   
Fayette Widow Cleaning 
859-492-5543 
___
Classic Home Center  
502-671-6949  
Housecleaning 
Cindy Bain 
859-457-5260 
___
Emma Castillo  
859-285-6419 
___
Dona Spicer 
859-270-3401
----
Monica Vasconcelos
859-285-1648
Lighting
Solartube - Jim Klausing 
502-468-4149
Locksmith 
All Hours Lock & Key 
859-396-8528
Painting 
David Clayborne 
859-270-3728 
___
FlipSide Painting - Johnny Jones 
859-749-1559 
___
My Three Sons Professional Painting  
859-227-2706 
___
Jim Napier 
859-967-3084 
___
Pest Control  
Elite Pest Control  
859-255-6105 
Plumbing  
Wyatt Plumbing
59-254-4106
___
T.R. Winford 
859-489-7174 
___
Joe Elam 
859-806-4353 
___
Ken Giles 
859-699-1422 
___
Mike Harrison 
859/333-6798 
___
Lex Rooter 
 859-269-0155 
Roofing 
AV Construction
(859) 771-4300 (Carlos)
-----
Bone Dry Roofing
859-254-26663
___
Graymark Exteriors
859-230-5415
___
AIC Roofing  
859-243-0015
Superior Home Improvement  
859-744-7580 
Siding and Construction 
Steve McCubbins
859-475-7180 
___
Mike Thornsbury
858-382-6415 
___ 
Superior Home Improvement 
859-744-7580
Tile Installation
Elias Vasconcelos
 "Designer of the Future" (859)-285-6427
Tree service 
FIRST: Call Joel DiGirolamo 
859-539-6882 
Tub-to-Shower Conversion
West Shore Home 
502-215-8271
Upholstery 
Ray Miller 
859-293-6996 
___
Elsie Norris 
859-255-7604 
Water Damage 
ServPro 
859-255-3193
Window cleaning 
Fish Window Cleaning 
859-246-1199 
___
Window Genie 
859-368-0196
Window Instalation
Mitch's Vinyl Windows (authorized dealer of Rogers Windows)
Contact Gary Smith: 859-338-8819
Window Shades 
Blue Grass Shade Co.  
859-269-6749
Recommend a service provider:
FYI: water, sewer and internal plumbing protection
Several LSV residents are using this insurance provider.  American Water Resources is a subsidiary of American Water, the largest investor-owned water utility in the U.S.   AWR provides water, sewer and internal plumbing protection programs to homeowners across the country. 
The AWR Water Line Protection Program covers repairs to a broken or leaking pipe. Normal wear and tear can cause these problems. This plan will cover the cost of repairing the residential water line that runs from your property line to the unit and will provide basic restoration to the repair site up to $5000.
The AWR Sewer Line Protection Program provides up to $8,000 in repairs for your residential sewer line – that's the pipe between your home and the sewer main in the street. Protection includes $4,000 for sewer service line repair, and $4,000 for road and sidewalk repairs.
Also provided: 
---